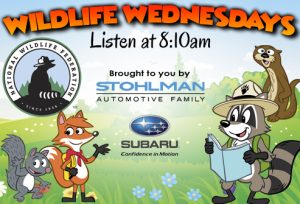 WINC FM HAS TEAMED UP WITH STOHLMAN SUBARU TO SUPPORT THE NATIONAL WILDLIFE FEDERATION'S "READ OUTDOORS WITH RANGER RICK DAY" WHICH IS SEPTEMBER 8TH. THIS EDUCATIONAL INITIATIVE IS A CHALLENGE TO ANY ADULT WITH CHILDREN IN THEIR LIVES, TO "PLEDGE" THAT THEY WILL GO OUTSIDE AND READ A BOOK WITH  THEM ON SEPTEMBER 8TH.
CLICK HERE TO MAKE THAT PLEDGE WHICH QUALIFIES YOU FOR THE OPPORTUNITY TO WIN 1 OF 5 "READ OUTDOORS WITH RANGER RICK" PACKS FILLED WITH OUTDOOR GOODIES AND $100 VISA GIFT CARD, COMPLIMENTS OF STOHLMAN SUBARU.
PLUS THROUGH AUGUST 30TH YOU CAN NOMINATE A LOCAL ELEMENTARY SCHOOL TO WIN THE GRAND PRIZE OVER $7,000 WORTH OF EDUCATIONAL MATERIAL BY CLICKING HERE!
THIS GRAND PRIZE INCLUDES:
COMPLETE SET OF RANGER RICK EDUCATION PACKS FROM BLUE STAR EDUCATION PLUS FREE INSTRUCTION FOR TEACHERS ON HOW TO USE THEM.
3 FULL SETS OF RANGER RICK CLASSROOM  DECOR, BOOKMARKS  AND STICKERS FROM TEACHER CREATED RESOURCES
2 EDUCATIONAL KNAP SACKS FOR LIBRARY CHECK-OUT

BARRY LEE AND RANGER RICK WILL ALSO VISIT THE WINNING SCHOOL AND READ  YOU A RANGER RICK BOOK.
EVERY WEDNESDAY THROUGH SEPTEMBER 6TH DAVE MIZEJEWSKI FROM THE NATIONAL WILDLIFE FEDERATION WILL JOIN BARRY LEE IN THE STUDIO AT 8:10AM TO DISCUSS WILDLIFE AND THE OUTDOORS AND 2 LUCKY LISTENERS WILL HAVE THE OPPORTUNITY TO WIN A SPECIAL PRIZE PACK COMPLIMENTS OF THE NATIONAL WILDLIFE FEDERATION AND STOHLMAN SUBARU!