Brought to you on Tuesday by:

and Thursday by:

_________________________________________
This week's pets is from Briggs Animal Adoption Center.
Meet Cookee…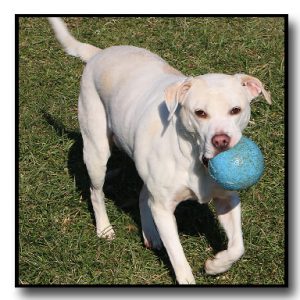 Cookee is a 3 ½-year-old, 56-pound spayed female Lab/Terrier mix who knows quite a few commands, including: Sit, Down and Drop it.  Cookee loves to play with other dogs and is very vocal. She's a girl who likes to talk and has something to say! Cookee also enjoys playing with toys and balls as you can see in her photo. She has even been one of our canine representatives, attending local schools with our humane educators—and the children love her! To find out more about Cookee, To learn more about this beauty, contact Briggs Animal Adoption Center.

_________________________________
  _________________________________
Dakota's Dream Animal Rescue
_________________________________________
Briggs Animal Adoption Center
3731 Berryville Pike (Rt. 340)
Charles Town, WV 25414
(304) 724-6558
 _________________________________________
_________________________________________
Frederick County Esther Boyd Animal Shelter
161 Fort Collier Road, 22603, Winchester, VA
(540) 667-9192
http://www.co.frederick.va.us/departments/o-z/public-works/esther-boyd-animal-shelter
_________________________________________
Winchester SPCA
115 Featherbed Lane, Winchester, VA 22601
(540) 662-8616
http://www.winchesterspca.org/
_________________________________________
Humane Society of Warren County
http://humanesocietywarrencounty.org/
_________________________________________
Clarke County Animal Shelter
225 Ramsburg Lane,
Berryville, VA 22611
(540) 955-5105
http://awos.petfinder.com/shelters/VA186.html
_________________________________________
 Hampshire County Pet Adoption
Highview, WV
304-856-2696
www.hcpap.com

_________________________________________
Animal Welfare Society of Jefferson County
23 Poor Farm Road
Kearneysville, WV
(304)725-0589
www.awsjc.org
_________________________________________
Friends of Homeless Animals
(703)385-0224
www.foha.org
_________________________________________
Shenandoah County Animal Shelter
(540)984-8955
website