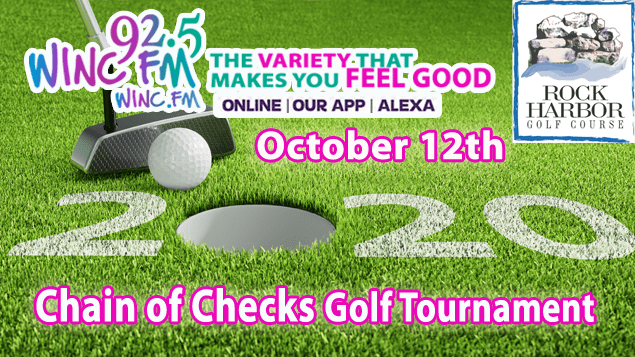 Get your clubs ready, form a team of 4, and join us
 at Rock Harbor Golf Club!

29th Annual Chain of Checks ®
Golf Tournament
1:00pm, Monday, October 12, 2020
$280/Foursome
Captain's Choice (no handicaps)
Limited to 26 teams

Top 13 scores comprise flight A

14th thru 26th place are flight B

Prizes for the top 3 teams in each flight

$70 per player

Optional "stroke savers" package – $20 per player
Payable at check-in and includes:

One "mulligan" front nine

One "mulligan" back nine

One "short tees" pass

One 50/50 raffle ticket
All of the above in one envelope for an easy,
"One Stop Check-in". Give your team the full advantage!!!!!!
Prizes for closest to the pin on hole #7 and #13

Prizes for longest drive for men & women on #12

Lunch served from 11:30am – 12:45pm

Snacks provided after the tournament

Shot-gun start 1:00pm
Click HERE to print registration form to sign up today!
Chain of Checks ®,  a history…
In 1986, 92.5 WINC FM's morning show host
Barry Lee asked listeners to send in $1 checks
so that he could literally create
a Christmas "chain of checks" around the
WINC FM studio to help local disadvantaged
families with their heating bills.
From that humble beginning came an
annual fundraising effort that
has since raised over a million
dollars for local charities!
This year's Chain of Checks ®
Is helping CCAP buy a box truck to
deliver food and hope to neighbors in need