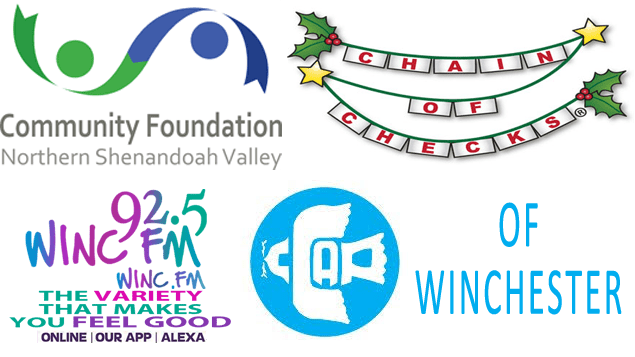 Dollar by dollar, our Chain of Checks continues to grow to help CCAP of Winchester " as we address hunger in our community.   As you're 'out and about' running errands or shopping, you can leave your donation at one of our "50 Friends" locations…Your donation will go to CCAP of Winchester so they can purchase a delivery truck and that would make their job easier!

Our "50 Friends" are:
-All 20 Handy Mart locations in the Shenandoah Valley
-Chick-fil-A on Pleasant Valley Road and at Rutherford Crossing
-Frederick County Circuit Court Clerk's Office
-Gore's Fresh Meats and Deli, 201 Centre Drive in Stephens City
-Creekside Grooming, 142 Creekside Lane in Winchester
-First Bank, 1835 Valley Avenue in Winchester
-Solenberger Hardware, Berryville Avenue in Winchester
-Loudoun Mutual, High Street in Waterford
-The Winchester Group, Inc., 24 West Piccadilly Street in Winchester
-Winchester Premier Jazzercise Center on Millwood Avenue
-Consolidated Electric Service on North Kent Street in Winchester
-The 9 Blue Ridge Hospice Thrift Stores in the Shenandoah Valley
-The Electronic Billing Department at the Winchester Medical Center
-Bucha Canna Kombucha and Organics, 1216 Berryville Avenue Winchester (Next to the Handy Mart Subway)
-Dusty's Country Gourmet Food Store, 206 East Main Street, Front Royal
-Zen Loans (Home of the Refi King), 114 Hovatter Drive, Inwood, West Virginia
-Rotz Pharmacy, Amherst Street, Winchester
Your "change" will change lives.
The Chain of Checks Match Day Radiothon is coming December 17th & 18th with your  92.5 WINC-FM!