Brought to you on Tuesday by:

_________________________________________
This week's pet is from Briggs Animal Adoption Center.
Meet Marshall!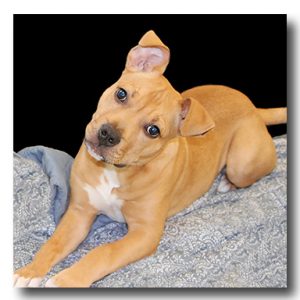 This photogenic loving little pup goes by the name of "Marshall" 
and he's waiting at Briggs to find his "furever" home. 
At 5 months of age, this smooth-coated Terrier mix is neutered and weighs 21 lbs. 
Marshall is a happy boy who plays hard, loves hard and naps hard! 
He likes to give kisses and is looking forward to growing up with his own family. 
It's important for Marshall's adopter(s) to teach him basic obedience training as he matures into an adult. 
Daily exercise is also a must to help him run out some of
 his energy so if you're a runner or avid walker, all the better! 
If you're up to the puppy challenge and would like to 
find out more about Marshall, contact Briggs Animal Adoption Center.
_________________________________
Shenandoah Shepherd Rescue
  _________________________________
Dakota's Dream Animal Rescue
_________________________________________
Briggs Animal Adoption Center
3731 Berryville Pike (Rt. 340)
Charles Town, WV 25414
(304) 724-6558
 _________________________________________
_________________________________________
Frederick County Esther Boyd Animal Shelter
161 Fort Collier Road, 22603, Winchester, VA
(540) 667-9192
http://www.co.frederick.va.us/departments/o-z/public-works/esther-boyd-animal-shelter
_________________________________________
Winchester SPCA
115 Featherbed Lane, Winchester, VA 22601
(540) 662-8616
http://www.winchesterspca.org/
_________________________________________
Humane Society of Warren County
http://humanesocietywarrencounty.org/
_________________________________________
Clarke County Animal Shelter
225 Ramsburg Lane,
Berryville, VA 22611
(540) 955-5105
http://awos.petfinder.com/shelters/VA186.html
_________________________________________
 Hampshire County Pet Adoption
Highview, WV
304-856-2696
www.hcpap.com

_________________________________________
Animal Welfare Society of Jefferson County
23 Poor Farm Road
Kearneysville, WV
(304)725-0589
www.awsjc.org
_________________________________________
Friends of Homeless Animals
(703)385-0224
www.foha.org
_________________________________________
Shenandoah County Animal Shelter
(540)984-8955
website