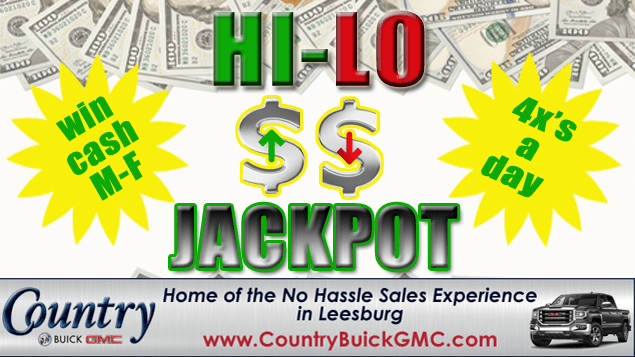 WINC @ Work and win CASH by playing along with our Hi-Lo Jackpot!!
Each weekday in the 9am, 11am, 1pm and 3pm hours
WINC FM will solicit for caller #9.
Caller 9 will then take a guess at the

amount in our current jackpot.
Will you be too high, too low or right on the money?
WINC @ Work to play and find out!
Brought to you by:
____________________________________
 WINC @ Work Hi-Lo Jackpot contest runs 10/7/19 through on or around 11/1/19
Contest will be played weekdays only during the 9am, 11am, 1pm, and 3pm hours
You must be caller #9 when solicited to participate
Contestant must guess exact whole dollar amount of
the current jackpot correctly to win that amount
If contestant guesses an incorrect amount,
we will announce if that guess is too high or too low
Only one guess per call
If jackpot is given away, we will start a new one
Only ONE WINNER PER HOUSEHOLD for the duration on the contest
Must be 18 years or older to play
WINC FM has the right to end this contest at any time
WINC FM's general contest rules apply